Workshop Details
Come & Get Creative!
Make this fabulous bee & sunflower  round plate.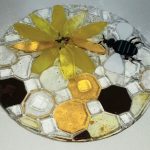 Approx  200mm
Lots of colours & designs to choose from.
*This 2 hour class will give you an insight of how you can create, cut & assemble your own glass plate.
*No experience necessary.
*Small class groups & extended creative time!
*All materials, use to tools & firings are included.
$60/person * Ages 15+
*CLOSED IN SHOES & BYO WATER BOTTLE.
*Bookings for larger groups, please call the studio 0415778609
#wedontdiscriminate
No refunds given, if you are sick we will transfer you to the next available workshop.
This must be advised by contacting Azure Glass 0415778609