Workshop Details
It's school holidays…… and it's time to get creative.
Come along for a 1hour workshop & create a mini glass pineapple dish.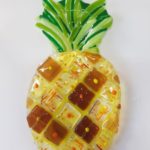 Open to all ages, yes adults can join in too!
Lots of colours & inspiration available.
Children under 7 must be supervised by a parent or older sibling, carer etc at no cost.
*No experience necessary.
*All materials, use to tools & firings are included.
*Safety glass provided.
*CLOSED IN SHOES & BYO WATER BOTTLE.
*Bookings for larger groups, please call the studio 0415778609
#wedontdiscriminate
No refunds given, if you are sick we will transfer you to the next available workshop.
This must be advised by contacting Azure Glass 0415778609