Workshop Details
It's school holidays…… and it's time to get creative.
Come along for a 1hour workshop & create a mini glass strawberry dish.
Lots of colours, techniques & inspiration available.
Children under 7 must be supervised by a parent or older sibling, carer etc at no cost.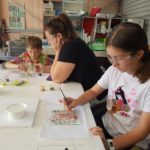 *Closed in Shoes are mandatory, no thongs, open toes or heels, no sandals etc.
Safety glasses provided, BYO drink bottle.
Group bookings & other dates, available by calling the studio on 0415 778 609
*Class cancellation fees.
No refunds given, however you can transfer to another available date if you call the studio.
This must be, no less than 5 days prior to your class booking.
*If you cancel your class enrollment there is a non refundable $25 admin fee.
*With exceptions of illness being 24hours prior of your booking. We will then transfer you to the next available class.